Welcome to the Portland Taiko Farm Festival!
Schedule
Farm Tours, free, first-come first-served (3:00 – 4:00 p.m.)
Kona Ice Truck (3:00 – 4:15 p.m.)
Farm Products by Triskelee Farms and Naked Acres, Beer & Wine in the Barn (3:00 – 6:00 p.m.)
Portland Taiko Concert (4:00 – 5:45 p.m.)
Map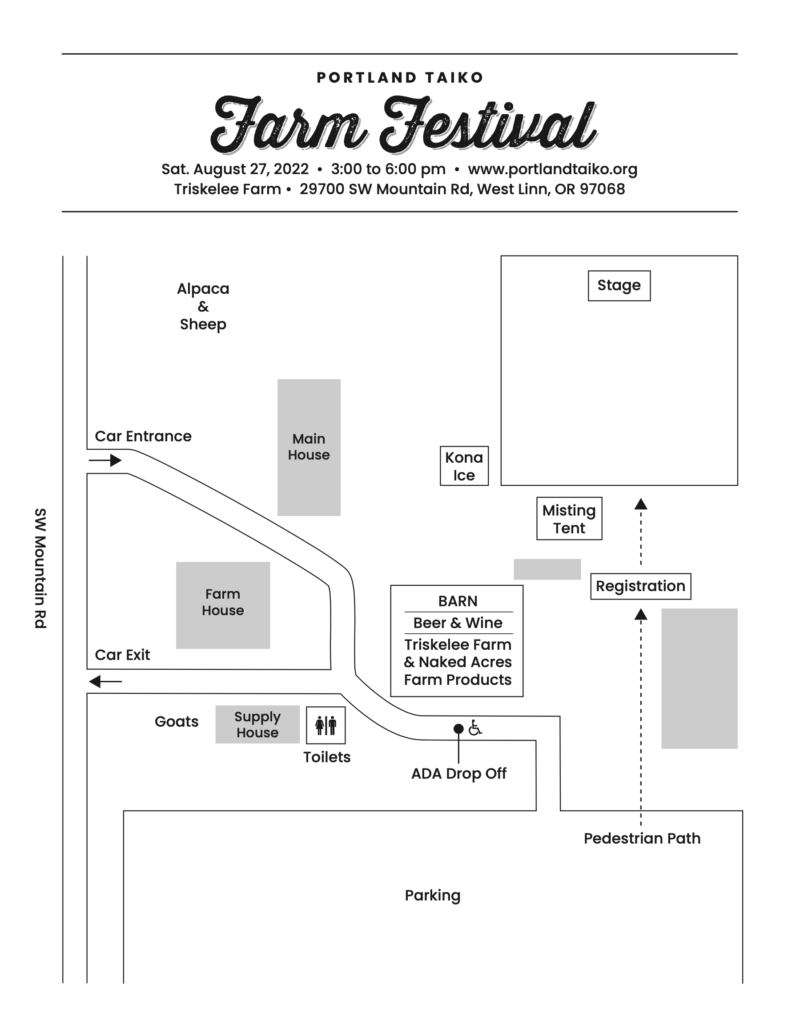 Program
Tatsumaki (Hiroshi Tanaka)
Midare Matsuri (Traditional, arranged by Portland Taiko)
Forest Festival (Kenny Endo)
Unfurled (Karen Tingey)
Gathering (Portland Taiko, in memory of Valerie Otani)
HA! (Kristy Oshiro, Karen Tingey)
Intermission 
Moving in Time (P.J. and Roy Hirabayashi) 
Utsu-Hachijo (Ondekoza)
From the Village (Portland Taiko)
All is Well (Teresa Enrico)
Fusion (Teresa Enrico, Toshiko Tanaka)
Oyakodon-don! (Zack Semke) 
TaikoKinesis (Oedo Sukeroku Daiko, arranged by Portland Taiko)
Portland Taiko Performers: 
Keiko Araki, Donovan Carrillo, Meredith Chan, Toshiki Chiba, Dan Chin, Karen Chu, Krista Ede, Matthew Kertesz, Nick Kettman, Toa Suruki, Lisa Tamura, Karen Tingey, Megumi Uehara.
Portland Taiko's "Beyond Basics" Performers:
Nicholas Hans, Paul Hiratzka, Yael Livny, Reece Murata, Janet Plummer, Valerie Witte.
Portland Taiko Board of Directors: 
Megan Denny, Lynn Grannan, Ann Ishimaru, Yael Livny, Carrie Peacock, Carolyn Saiget, John Schumann, Zack Semke, Karen Tingey, Scott Winner, Jenna Yokoyama.
Portland Taiko Staff and Volunteers: 
Wynn Kiyama (Executive Director), Meredith Chan (Performance Coordinator), Kelsey Furuta (Education Coordinator), Carrie Peacock (Office Manager), Michael Hale (Database and IT Volunteer). Meredith Chan, Karen Tingey, Megumi Uehara (Artistic Leadership Team), Jeff Hopper (AV), Daniel Chien and Anya Bogorad (Videography), Mike Sweeney (Photography), Robert Harder (EMT). 
Thank You:
Regional Arts and Culture Council, Oregon Arts Commission, City of Portland, Community Foundation for Southwest Washington. 
Thanks to our Partners: 
Kona Ice, Paperjam Press, Naked Acres Farm, Triskelee Farm, and to all our supporters and audience members! We couldn't do it without you!!!