Welcome to Portland Taiko's Farm Festival!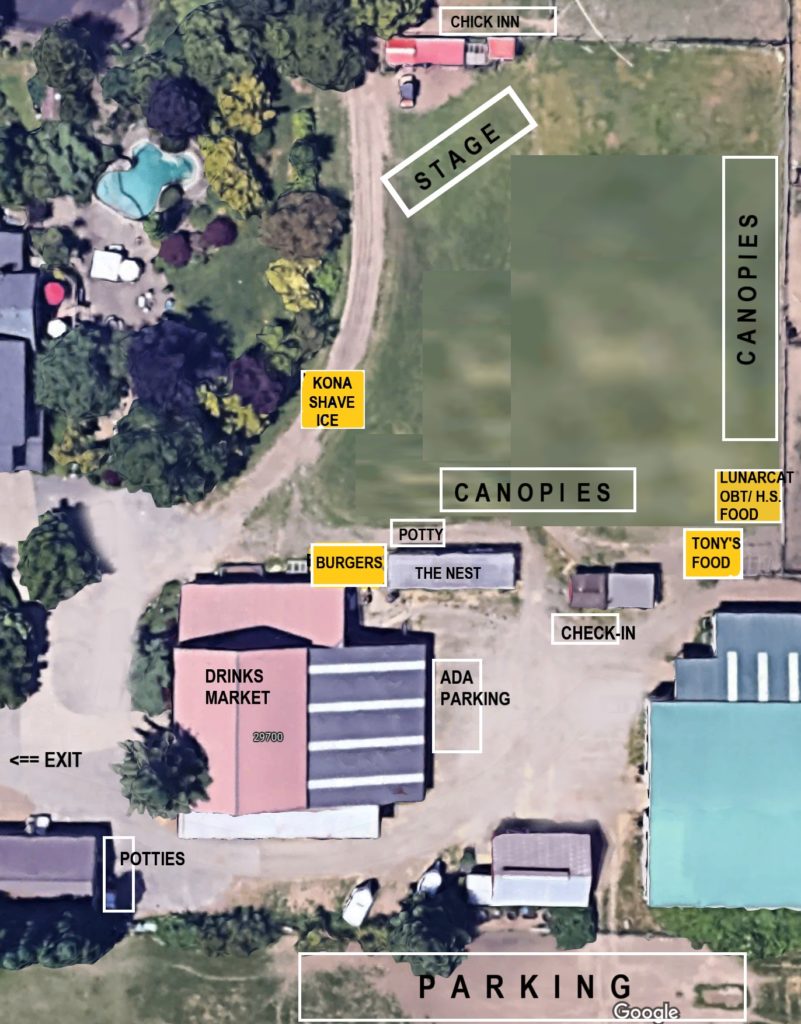 Farm Tours (3:00 & 3:30 p.m.) 
Free! First-come first-served Meet at the goat pen.
Under the Pavillion (3:00-6:00 p.m)
Lunarcat Studios – origami designs and gifts
Oregon Buddhist Temple- spam musubi – proceeds to benefit Maui Wildfire Disaster Relief sponsored by the Lahaina Hongwanji
Grant High School Asian American Pacific Islander Alliance – homemade cookies and snacks, crane folding and note writing for victims of the Maui wildfires—proceeds to benefit Maui Wildfire Disaster Relief sponsored by the Lahaina Hongwanji 
Around the Farm
Triskelee Farms – ostrich, beef, or veggie burgers, hot dogs, chips, beer, wine, n/a beverages, fresh produce for purchase
Tony's Fresh Fruit & Mexican Food
Kona Ice Truck (4:00-5:30 p.m.)
Portland Taiko Performance (4:00-5:45 p.m.)
Program
Moving in Time (P.J. and Roy Hirabayashi) 
Fusion (Teresa Enrico, Toshiko Tanaka)
Akatombo (Naoko Amemiya)
Together We Rise (Kristy Oshiro)
HA! (Kristy Oshiro, Karen Tingey)
Gathering (Portland Taiko, in memory of Valerie Otani)
Intermission
From the Village (Naoko Amemiya, Teresa Enrico, Ann Ishimaru, Zack Semke)
Salmon Ghost Song (Zack Semke)
Tatsumaki (Hiroshi Tanaka)
Confluence (Ann Ishimaru, Zack Semke)
Resonance (Zack Semke, Teresa Enrico, Naoko Amemiya, Ann Ishimaru)
TaikoKinesis (Oedo Sukeroku Daiko, arranged by Portland Taiko)
Portland Taiko Performers: 
Keiko Araki, Donovan Carrillo, Dan Chin, Karen Chu, Krista Ede, Claire Flynn, Matthew Kertesz, Nick Kettman, Derek Ogi, Toa Suruki, Tiffany Tamaribuchi, Lisa Tamura, Karen Tingey, Megumi Uehara.
Portland Taiko's "Beyond Basics" Performers:
Clark Leeson, Yael Livny, Carrie Peacock, Janet Plummer, Dennise Pozos, Penny Woodcock.
Portland Taiko Board of Directors: 
Megan Denny, Lynn Grannan, Ann Ishimaru, Yael Livny, Carrie Peacock, Carolyn Saiget, Zack Semke, Karen Tingey, Scott Winner, Jenna Yokoyama.
Portland Taiko Staff and Volunteers: 
Tiffany Tamaribuchi (Artistic Director), Donovan Carrillo, Meredith Chan, Matthew Kertesz, Karen Tingey, and Megumi Uehara (Artistic Leadership Team).  Meredith Chan (Performance Coordinator),  Kelsey Furuta (Education Coordinator), Carrie Peacock (Office Manager), Michael Hale (Database and IT Volunteer), Jeff Hopper (AV), Daniel Chien (Videography), Mike Sweeney (Photography) 
Thank You:
M.J. Murdock Charitable Trust, Marie Lamfrom Charitable Foundation, Regional Arts and Culture Council, Oregon Arts Commission, Community Foundation for Southwest Washington, Oregon Community Foundation. 
Thanks to our Partners: 
Triskelee Farms, Lunarcat Studios, Tony's Fresh Mexican Food, Kona Ice, Oregon Buddhist Temple, Grant High School Asian and Pacific Islander Alliance, and to all our supporters and audience members! We couldn't do it without you!!!