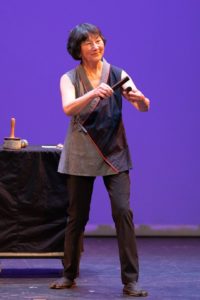 Our beloved friend Valerie Otani passed away last week from cancer.
Valerie co-founded Portland Taiko, performed for 25 years, and was the President and Co-President of our Board of Directors. She created profound art pieces like the Torii Gates at the Portland Expo Center, mentored countless artists through her role as the Public Art Program Supervisor for the City of Hillsboro, and was instrumental in the development of the Oregon Nikkei Endowment, Mochitsuki, Oya No Kai, and the PPS Japanese Immersion Program.
Valerie was an astonishingly beautiful soul and she taught us all, in her gentle way, to be better performers, artists, teachers, parents, partners, citizens, and people of the world. We are truly grateful to have shared so much time with her, but, we wish we had more. We miss her beyond words.
We are in communication with the Otani/Spielman families and they would like to express their thanks to family and friends for the outpouring of love. A service will be planned in the coming months and we will post further information. While flowers are not necessary, the families welcome cards to Rick Spielman (2917 SW Hume Court; Portland, OR 97219) and Kenji and Raf Spielman (736 NE Going Street; Portland, OR 97211). The family also welcomes donations to organizations close to Valerie's heart—Portland Taiko, the Fair Housing Council, and the Japanese American Museum of Oregon (formerly Oregon Nikkei Endowment and Oregon Nikkei Legacy Center).