Happy New Year! We're starting 2020 by hosting a private workshop, lessons, and a public odaiko workshop with visiting artist TIFFANY TAMARIBUCHI. The public odaiko workshop is on Monday, February 3 from 7:00 to 9:00 pm and is suited for anyone wishing to hone their odaiko skills, from beginners and intermediate students to more advanced performers. Tickets are SOLD OUT but join the wait list HERE.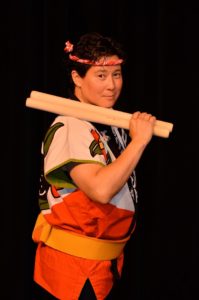 An internationally recognized taiko master, Tiffany Tamaribuchi has forged a powerful voice with her deep musical training, multicultural heritage, and female perspective. She is the founder and artistic director of three active taiko groups and has performed throughout North America, Europe, and Japan.
Tamaribuchi trained with the San Francisco Taiko Dojo, performed with Za Ondekoza in the 1990s, and studied in Okinawa with Zampa Ufujishi Taiko and the Mafueakaji Eisa Group. In 2002, she won the OTA-I-KO Hibike Zenkoku Ippon-uchi (All-Japan Odaiko Competition) and was a finalist in the first Tokyo International Odaiko Competition. She currently directs the Sacramento Taiko Dan, Tozai Wadaiko, and JO-Daiko.